Han Jiatian
Composer, Writer, Music Educator, Host of "Music Life", Producer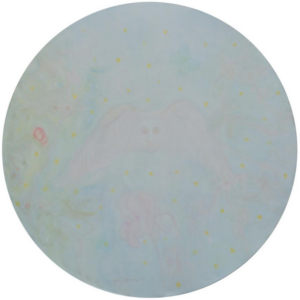 Fairy garden IV
By chance, I met artist Gulistan at an exhibition at the National Art Museum of China. Like her own, her paintings are full of affinity, exuding peace and authenticity.
As a painter, nothing is more important than authentic expression. Because under the "real" brush, there will be works infused with heart.
In her paintings, even a flower and a leaf all reveal spiritual energy. It's a brushstroke without pretentiousness, a sway without pretense. It's the wisdom behind simplicity, naivety, and seemingly simple. All this makes me feel energetic life.
Since the advent of the camera in the early nineteenth century, people have had a new understanding of the nature of painting. Painting is no longer just an art that follows natural representations, or simulates a "mirror image" of reality. It will bring people more imagination space, even if it is a surreal, subjective world.
Gulistan's work is her "existence", but also belongs to the viewer. What she gives us is the opportunity to explore ourselves again and again, so that the people who stop there seem to touch a window inadvertently. After opening it, they will find that there is a world of their own.
A great artist goes deep into the space and incorporates her own spirit and breath into the work. Because it's real, it's alive, it's life that infuses the heart with inspiration. So every time a piece of work is created, it no longer belongs to anyone. It travels in time, bringing warmth, breath, and charm to those who are destined to meet.
It was also that encounter that gave me the privilege of being in the time and space of Gulistan's art and glimpsed the traces left by the pure soul across the sky.
Looking forward to meeting you, thanks for meeting!