Xia Kejun
Curator, Professor of Renmin University of China, Doctor of Philosophy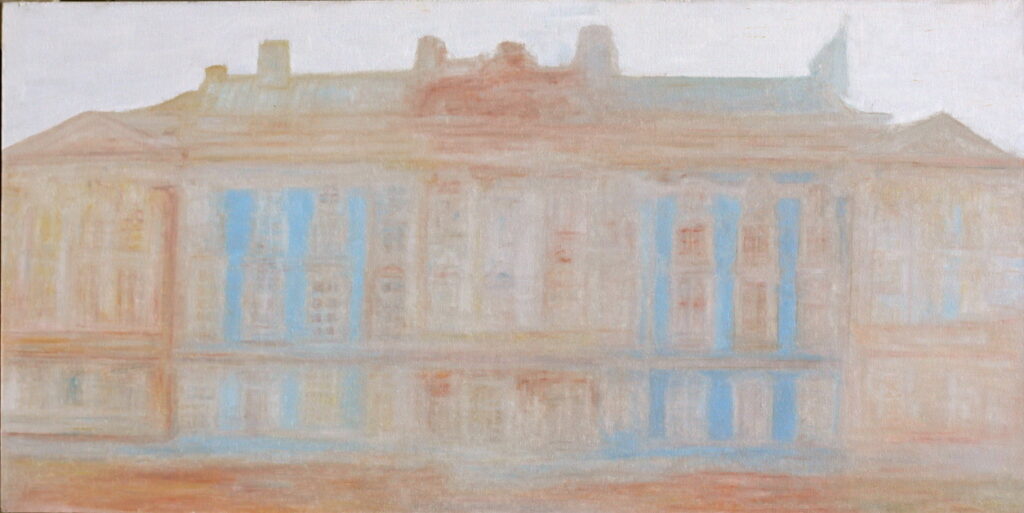 Distant memory is looking for a Muse, mysterious blood is waiting for a legend, ancient art is dreaming of a brilliant time, from the western regions to Italy, from Beijing to Australia, Eastern and Western civilizations meet under her eyes, in her paintings, it is not her intention to describe them, but these beautiful things come to her soul, this artist is Gulistan.

The life of youth has a quaint soul, which comes from Gulistan's interest in Archaeology and the excavation of ancient memory. The solid of Greece and the elegant of the East are skillfully combined with a sweet dream. The inner fusion of Napoli yellow and van Dyck Brown brings an elegant and charming tone to the picture, which continues the teacher Mr. Shang Yang's deep style.it makes Gulistan's paintings having a rare female artist's deep and quiet, a kind of ancient melancholy.

These colors are the overlapping of multiple memories, the remnant marks of the ancient murals in childhood, the mottled frescoes in Italy, the brilliant fragments of the great classic paintings seen when traveling around the world, the dream of never fading youth, the deep perception of painting materials, of course, the light turning and deep looking back of elegant posture. These are all overprinted by the color of painting, and are obtained the thickness of time and elegant tone, this is the virtual color of jade with a coating.

So fascinated by the exploration of painting language itself, Gulistan's painting have a time precipitation temperature, such a charming but distant aura.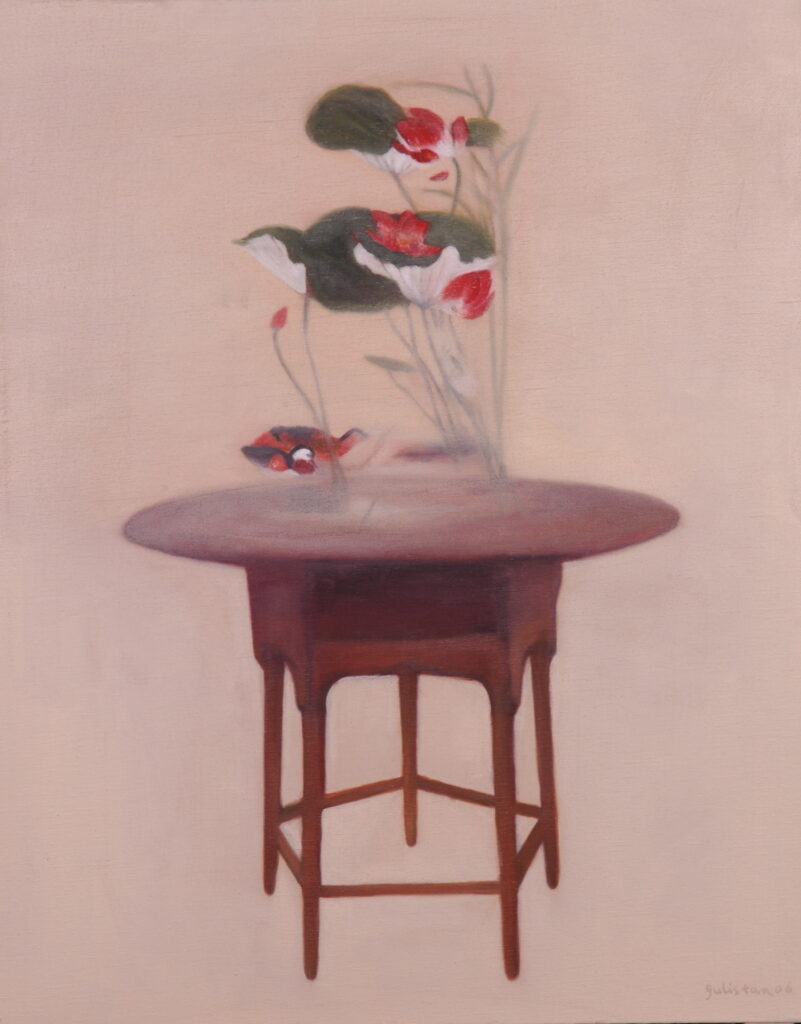 Posture-Mandarin Duck
In the painting series named 'Posture', furniture table combined Chinese and Western classical has become a stage for theatrical props and performance. Gulistan dramatizes the artistic elements of various cultures at will, such as the horse ,flower of Lang Shining(Giuseppe Castiglione), the puppet shadow play or the mandarin duck of lotus. Such a strange juxtaposition has the implication of still life painting, but it also has a kind of unexpected magic. These ancient, modern Chinese and Western cultural elements are cleverly reorganized by Gulistan, reflecting the artist's inner love Interest and fraternity. This, of course, is also the stage where the freedom of the artist's individual soul is projected and performed.

The deep respect of ancient civilization, the dream reorganization of art elements make Gulistan a secret messenger of two civilizations, and also makes her an artist of triple time: the distant traces of ancient civilization history, the wonderful combination of different art forms, and the instant memory of personal world travel are all overprinted together in pure painting way, which is elegant and profound, affectionate and mysterious, so the artist can become the Muse's favorite daughter, so painting can become the doctrine of civilization.